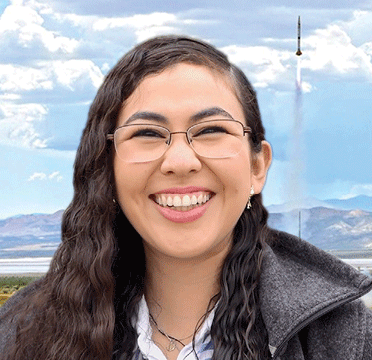 Name: Yesenia Gonzalez
Country: El Salvador
Major: Industrial Engineering
Yesenia is an Industrial Engineering Major. She chose it for a love of critical & logical thinking and communication skills, which are a focus of her major.
She enjoys the challenges her major brings and being here in California. On campus, she specifically appreciates the STEM Center and the ISC.

Yesenia describes her experience studying in the U.S. as a blessing and a challenge. Despite any obstacles, she is thriving here at Citrus College. Her Rocket owls team took first place in a rocketry competition against UCLA, Cal Poly Pomona, and other universities this summer and she also works as a STEM Center Tutor.

We are proud to have you as one of our ISC Students and wish you success here at Citrus College and in the future.
ISC Activities
The month of July has a lot in store for ISC students. We had thirty-five new ISC students join us this summer, a 25% increase over last summer. We are so excited to have you all here with us.

The summer heat is just getting started. Like most people, you'll want to beat the heat and there is no better way to cool off than a dip in the pool. So, the ISC will be Pool-side July 19 at our Summer Pool Party complete with music and a taco bar. Don't miss out and stay cool at the pool with us this summer. Sign-up on the ISC Portal today!

Get even more out of summer with our FREE Experience Summer at Citrus College program. Enjoy an advanced ESL speaking course and excursions to Six Flags, Boomers Arcade, and Bolsa Chica State Beach this August. Do not miss out on this exceptional opportunity. Sign-up on the ISC Portal today!
Tsai-Lin Yeh - Benefits of Community College Presention in Taipei
ITsai-Lin (Grace) Yeh, a Citrus College alumna and former ISC Student Assistant, is presenting her journey from Citrus College to University of California Santa Barbara at the Academic Exchange Foundation, U.S. Education Information Center in Taipei Taiwan July 18 from 6-7 PM. She will present the benefits of the 2+2 community college pathway for aspiring students using her story of success to outline how Citrus College allowed her to achieve her goals and study at University of California Santa Barbara.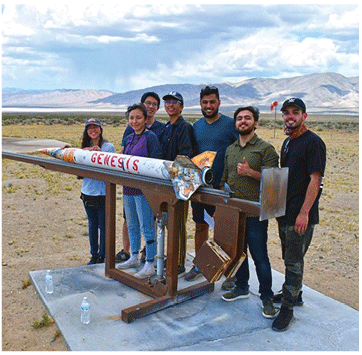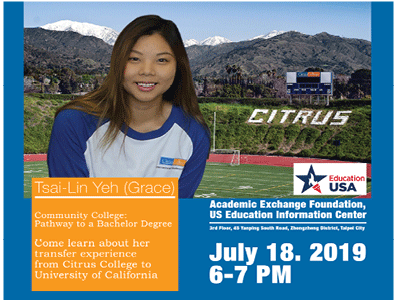 Citrus College Takes First Place at FAR 1030-5R Rocketry Competition!
The ISC would like to congratulate one of our STEM students, Yesenia Gonzalez. She was part of the Rocket Owls Genesis team that competed in the Friends of Amateur Rocketry (FAR) 1030-5R Rocketry Competition. Citrus College's own Genesis team took first place in the competition when their rocket flew closest to the 10,000 ft. mark. They competed under tough competition from UCLA, Cal Poly Pomona, University of Central Florida, Mt. SAC and a second team from Citrus College. We are proud of our innovative STEM students and their victory this summer.