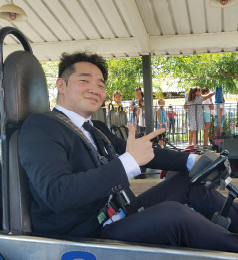 Name: Ji Hoon Kim
Country: Computer Science
Major: South Korea
Ji Hoon is an extremely active student on campus. He is involved in many groups including the Peer Friendship Program, Honors Program, and is an Officer in Student Government. When asked, he described Citrus College as "like a diamond mine with numerous hidden gems that make me happy when discovered".

He chose Citrus College for its easy application process, safe campus, and high faculty to student ratio. In relation to Citrus College faculty, Ji Hoon said, "I am grateful that our school has real teachers, not just instructors delivering knowledge".

Ji Hoon plans to transfer to a University of California and is even considering graduate school after that. We are proud Ji Hoon has chosen to pursue his educational goals with us.
ISC Activities
October is a great month for students in China and Japan to get to know Citrus College and the ISC. Our ISC Director, Coe Lamoureux, is traveling to Beijing China and visiting our partners at NIC in Japan.
At home, the ISC has a great line-up of events for you this month. October is a spooky month with the shortening days, cooling weather, and ends with the most fright-filled night of the year, Halloween. With that in mind, we are going to the best Halloween event in LA at Six Flags Fright Fest for a day of thrills and chills in one of the biggest amusement parks in California. If you can't make it to Fright Fest, you're in luck as we are also hosting the annual ISC Halloween party in the ISC Lounge on Thursday, October 31. You don't want to miss this event with free food, games, candy, and prizes for you to enjoy.
Apply For the New ISC Scholarship!
It is time to apply for the coming Spring semester! This year, the ISC has something special for new incoming ISC students. The new ISC Scholarship of $500 will be awarded to ten lucky students. To apply, you must first be accepted to Citrus College, then complete the Scholarship Application. The application will include questions regarding your participation in your community, volunteering, or any other areas you participate in and any special talents you have or awards you have received. In addition to answering the questions, applicants will be required to record a 2-3 minute video explaining why you want to study at Citrus College. That's it! Once these requirements are met, you will be considered for one of the ten available prizes.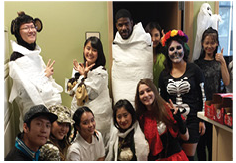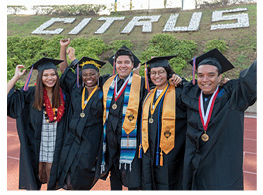 Free Halloween Costume Rental
Are you going to a Halloween party/event this year and have nothing to wear? Not to worry. The ISC has got you covered. We have an assortment of costumes waiting for you to borrow and enjoy all the festivities Halloween has to offer. Have you always wanted to be a pirate, super hero, video game character, or even a peanut butter sandwich? The ISC has all of those and more. The best part is that it's FREE for ISC students! Come into the ISC today and reserve your free costume for upcoming Halloween events.