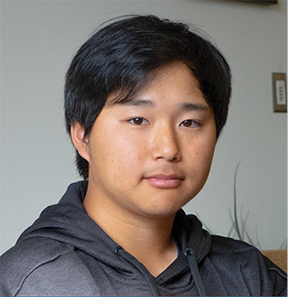 Name: Doyeon Kim
Country: South Korea
Major: ESL
After viewing Citrus College's academic programs online, Doyean knew he wanted to attend Citrus College. Today, he is entering his second semester of ESL coursework and making fast progress toward entering an academic major. Deyeon is also an athlete and was excited to discover that Citrus College has a baseball team. He quickly joined as a pitcher on the Owls baseball team and is excited to accompany his teammates on the field next season.

When asked, he said he liked the small, safe campus at Citrus College and quiet and comfy International Student Center where he can study and rest between classes. Doyeon is not sure what he will major in yet, but hopes a baseball scholarship will help him achieve his goals once he transfers to a university.

ISC Activities
The ISC eased into 2020, but things are ramping up quickly as the Spring semester approaches. The charge toward spring started last month with a Lunar New Year celebration at a Clippers G-League game and there are many important things coming up this month too. Stay connected with the ISC and check your student emails. You will receive many notifications and alerts with the new semester and you don't want to miss anything important. With that said, we've got a lot planned for you this month. February kicks off with the biggest sporting event in the U.S. with the Super Bowl. Meet us in the ISC lounge at 3:00PM Sunday February 2nd for the annual ISC Watch Party. We also have new student orientation February 13th at 12:30PM. Spring classes start the following Wednesday, February 19th. Mark your calendars! It's going to be a wonderful semester!

Citrus Mobile App
The newly updated Citrus Mobile app is available now! Citrus Mobile is designed to put the information you need and want at your fingertips. Access important college information and news anywhere, anytime.
Home Page displays today's schedule, due dates, and

notifications from Canvas.

Your Campus link provides quick access to resources

Community link lists of news feeds you can subscribe to

Notifications alert you to important messages

My Profile gives you real-time access to the Citrus College administrative system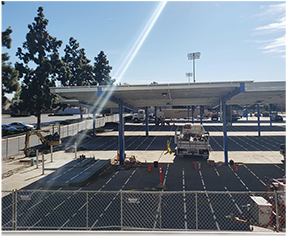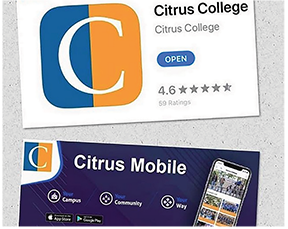 Solar Photovoltaic Project
Citrus College has gone solar. The massive solar photovoltaic project in the S2 parking lot will be completed this month. This renewable energy project has been in the works since it's planning stages began in 2017. In the ISC, we have had a special view of this project and watched as it slowly progressed to completion. It has only been a few short months since the construction fences went up in October 2019. Soon we will enjoy green solar energy that will reduce our carbon footprint on campus and the S2 parking lot will reopen with no lost spaces due to the construction. We are proud of the green energy efforts of Citrus College and grateful for the new shade when the hot summer months return.