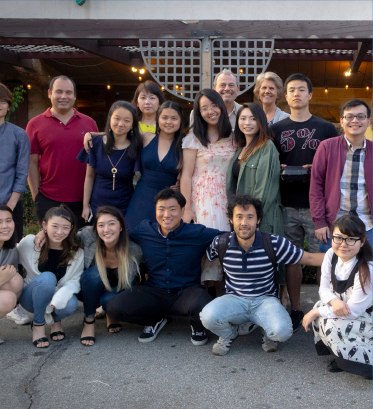 Name: New ISC Students
Country: Various Countries
Major: Various Majors
This fall we brought in 47 new students. These new students are brave pioneers entering Citrus College at a time when we are engaging in education in a whole new way. This is especially difficult as these new students may be connecting from far away places with little knowledge of U.S. style learning or online learning.

We understand that times are tough and most of what is going on during Fall 2020 is unfamiliar, but we are here for you and will provide support in any way we can. Welcome to Citrus College. We are proud to have you here.

Conversation Corner
Conversation is an ongoing weekly virtual event hosted by ISC Technician, Mary Mincer, every Thursday at 5 p.m. It started off in the wake of COVID this summer as a place for new students to practice conversing in English. In recent months, Conversation Corner participants have grown in number and the format has evolved from simple English practice to include a Q & A session for new as well as continuing students to voice their questions and concerns about their studies. Conversation Corner and its host, Mary Mincer, have become a critical line of engagement for ISC students this Summer and Fall. As a result, conversation corner will continue through the Fall and we encourage all to participate in this wonderful program.
Need to Drop a Class? No Problem
Are online classes a new experience for you? Are you concerned about your academic performance in this new format?

You can let go of your concerns this Fall as all students are guaranteed approval when submitting a request to drop a course late in the semester for an EW. Any courses with an EW will not reflect negatively on your GPA. This means that there is no need to worry about the new format and you can enjoy a risk-free online learning experience at Citrus College and maintain that perfect GPA no matter which learning format you prefer.
Peer Friendship & Phi Theta Kappa (PTK) International Social
COVID has us all socially distanced, but that doesn't me we cannot socialize virtually. That is where PTK and PFP comes in. They have collaborated to bring Citrus College students an excellent opportunity to stay connected and build friendships in among the Citrus College community. On Monday, September 14 at 5:30 p.m. the PTK and PFP are hosting their International Social event. At this fantastic event, you will have the opportunity to socialize with students just like you as well as discuss getting involved in campus life, build your resume, and connect while building new friendships. Contact Aryan.aida4@gmail.com or citrusptk@gmail.com or see the PTK site for more details.