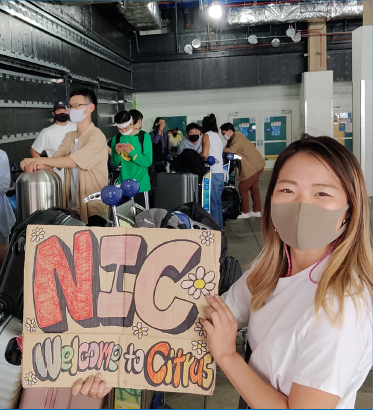 Name: New NIC Students
Country: Japan
Major: Various Majors
This month we received a brand new group of wonderful students from NIC for the Fall semester! We were so glad that you all arrived safely in the U.S. and made it to the Citrus College campus without issue. We have not had the pleasure of greeting new NIC students on campus since Fall 2019. So, this was a special day for all involved as it marks a milestone in our return to normal operation in the ISC and at Citrus College. Congratulations on the beginning of your educational pathway in the U.S. and thank you for your bravery in taking on the challenge of studying so far from home. Welcome to Citrus College!

ISC Activities
The ISC Lounge is now open again! This month we welcomed the new, incoming Fall 2021 NIC students in person in the ISC lounge. We were so happy to invite students back into the lounge to enjoy the space dedicated to ISC students at Citrus College. It has been too long since we have been able to share this space with all of you. We cannot wait until it is once again safe to host our holiday events and karaoke parties in the lounge for all to enjoy. For now, feel free to stop by and relax on the couches in the ISC Lounge!

Welcome Day and ISC Orientation
Citrus College is back and open to the public once more. To celebrate the occasion, Citrus College enjoyed a successful Welcome Day in the campus mall complete with a lunch catered by Habit Burger. The International Student Orientation was held in the afternoon. Three important members of the Citrus College team welcomed our new international students, Dean of Enrollment Services, Dr. Gerald Sequeira, Vice President of Student Services, Dr. Richard Rams, and our new Citrus College President, Dr. Greg Schultz (pictured). Thank you to everyone that showed up and we are excited for you to start your very first classes on Monday!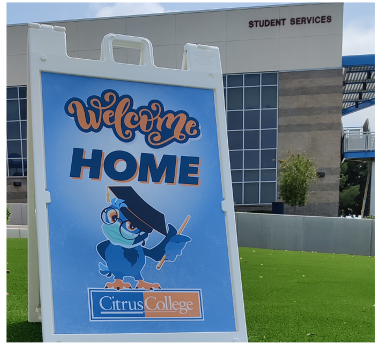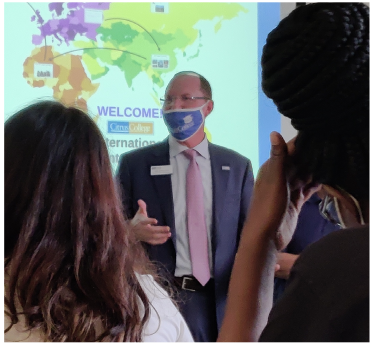 CARES Act Grant
International students now qualify for the Higher Education Emergency Relief Fund (HEERF) CARES Act Grant. The federal government created a new grant to assist students impacted by the COVID-19 pandemic. ISC students are eligible to receive up to $875 worth of grant funds this Fall. You only need to meet the eligibility requirements and complete the very short application process before September 20 to receive the funds. See details on the ISC Portal and apply for the funds today!