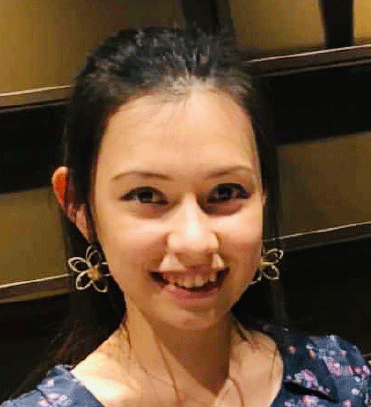 Name: Erika Aoki
Country: Japan
Major: Theatre Arts
Erika is an NIC student who joined us in Spring 2020. She chose Citrus College after seeing the impressive Performing Arts Center and for the accessibility to downtown Los Angeles. When asked about her experience at Citrus College, Erika said,

"I believe Citrus gives you opportunities and wonderful experiences."

After her program is over, she plans to return to Japan and work in the entertainment industry.

We're proud to have you at Citrus!

ISC Activities
The ISC has had an exciting month with the beginning of Fall 2021 just a few weeks ago, a virtual fair sponsored by EducationUSA, and our annual meeting with long-time partner NIC in Japan conducted via Zoom. We've enjoyed a successful return to campus and Fall is underway without a hitch this year. While most classes are still online, we have had a successful limited return to on-campus classes. This month the ISC also participated in the EducationUSA South Asia Fair where we met with dozens of students from all over Southern Asia. It was wonderful meeting you all and we hope to see you on campus in the near future.

Are You Vaccinated?
COVID Vaccinations are free and available to everyone in California, including international students. All you need to do is visit myturn.ca.gov and make an appointment or search for a walk-in clinic offering vaccinations. No insurance is required. It's totally hassle free. The most abundant vaccine, which is made by Pfizer, has been fully FDA approved and is available at most vaccination sites. Additionally, weekly COVID testing will be required for students taking on-campus classes starting September 13th and testing will be available free in front of the Haugh. Signs will be posted on campus for directions to the testing site.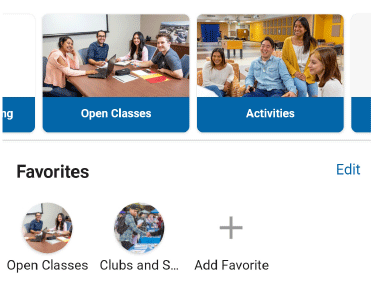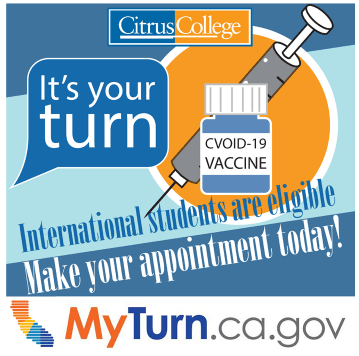 Need a Class or Want to Join a Club?
Are you looking for a class to reach your unit count or just looking to connect with groups on campus? The Citrus Mobile App can help. You can view open classes by tapping on the option on the top navigation bar or add it to your favorites by tapping on the "Add Favorite" button. You can quickly and easily view all currently open classes. You can also view all the active clubs on campus by adding the option to your favorites in the app. What are you waiting for? Download the App now!