April 2022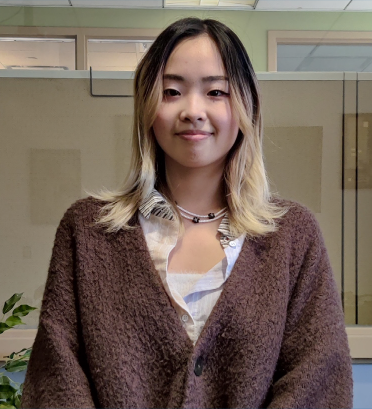 Name: Mizuki Nagasawa
Country: Japan
Major: Recording Technology
Mizuki is an NIC student that started at Citrus College in Fall 2021. Spring 2022 is her first semester on-campus and she is excited to finally be here in-person. Mizuki chose Citrus College for its unique recording technology program. The program provides instruction in acoustics and studio recording equipment and technologies.


Mizuki wants to be a sound engineer for live performances once she has completed her program at Citrus College. She plans to utilize OPT in order to get valuable work experience in her chosen industry before returning home to Japan.

ISC News
April is an exciting month in the ISC. We have so much to update you on. First off, April is the ISC Owl Hunt! The ISC hid five toy owls across campus for students to find and return to the ISC for prizes. Students that found one of our ISC owls, spun the prize wheel to determine their winnings, which ranged from gift cards to Citrus College merch and more. April is also the month of Spring Break! This year, spring break starts April 18 and goes until April 24. Offices remain open with the exception of the Health Center. Have a fun, safe break owls!
Grad Application Due Soon!
Graduation is fast approaching. The Spring 2022 commencement ceremony will be the first in-person ceremony since the pandemic began in early 2020. We are very excited to bring this event back to campus and see all the graduates celebrating their achievement. If you are graduating this Spring, complete your application now! The due date is April 15. If your application, is not complete by April 15, you will not be participating in the ceremony this June. Congratulations and go Owls!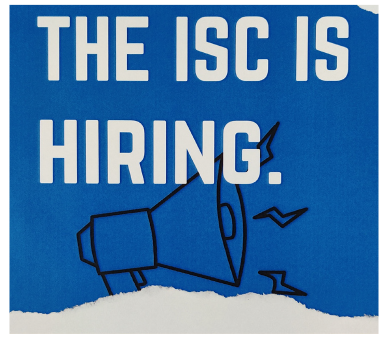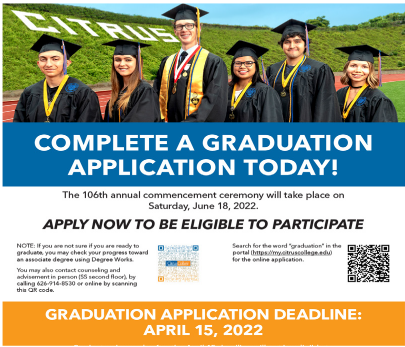 ISC is Hiring
It's that time of year again. The ISC is hiring new student assistants! Soon we will have fresh new faces behind the ISC front desk ready to assist you in all your ISC needs. Want to be an ISC Student Assistant? Complete the application today and put your name in the running! Be quick. The deadline is approaching very quickly and we will review applications as early as the week of April 18-22. Complete the application HERE and become part of the ISC team!
Important Dates
Current Students
ISC Owl Hunt - April 11-15

ISC Student Worker Application Deadline - April 14

Graduation Application Deadline - April 15

Spring Break - April 18-23

Late-Start Spring Classes Begin - April 25
Future Students
Late Start Spring Application Deadline (New Initial & Transfer I-20) -April 1

Late-Start Spring Classes Begin - April 25

Summer Application Deadline (New Initial & Transfer I-20) -June 1