July 2023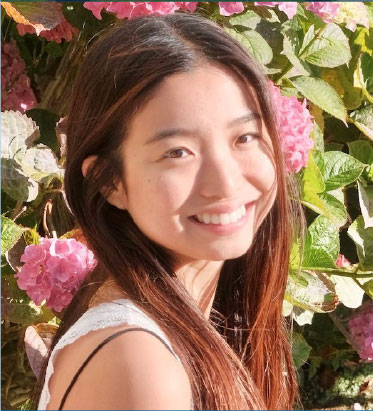 Name: Hana Hiratai
Country: Japan
Major: Performing Arts
Hana is one of our excellent NIC students. She was recommended to Citrus College by the advisors at NIC for our strong Performing Arts Program.

As an actress, she was immediately drawn to Citrus College due to our reputation in the arts. Hana is taking on the challenges of her chosen field as an actress. "The most impactful experience is acting class. I learned a lot about life and acting. There are tough situations and language barriers… I think of it as a test and do my best."

After Citrus, she will transfer to a four-year school to complete her bachelor's degree. When asked for advice to incoming students, Hana said, "Learning in a new environment is never easy, but do your best and become stronger."
ISC News
Summer is an exciting time in the ISC. We have new incoming students for the Summer session, new ISC Student Assistants at the front desk, upcoming summer events, and so much more.

This month, we introduced new student assistants to the rotation at our front desk. We are very happy to have them and they are doing a great job getting acquainted with the duties and assisting ISC students in a friendly and welcoming manner. Additionally, do not miss out on our pool party this month and the annual ISC Beach Party in late August. It's going to be a great Summer at the ISC.
Summer Fun at the
ISC Pool Party!
This month the ISC is hosting a Pool Party at the Citrus College Aquatics Center.

Stop by Tuesday, July 11 at 1pm, for an afternoon swim and taco lunch.

Join us and sunbathe by the pool, enjoy the cool water under the July sun, soak in the hot tub if that's your preference, or just enjoy a taco and hang out with friends under the canopy. All are welcome at this ISC Summer Tradition. See you poolside this month!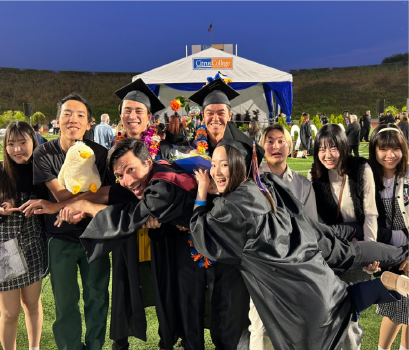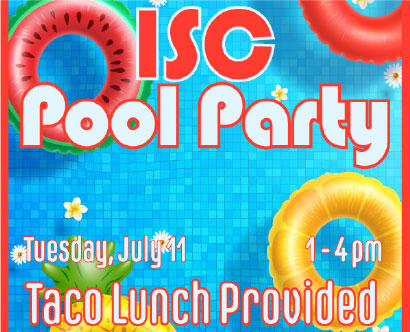 Peer Mentor Program
Citrus College is looking for new Peer Mentors for the Peer Mentor Program starting Fall 2023. This program will provide an opportunity for current international students to mentor new international students who may have questions about their major, Citrus College, and life in the United States. Mentors will be paired with new students who have the same or a similar major. If you are interested in learning more about the International Student Peer Mentor Program at Citrus College, please contact the ISC by phone at 626-914-8549 or email at isc@citruscollege.edu
Important Dates
Current Students
Late Start Summer Classes - July 10

ISC Pool Party - July 11

ISC Fall Orientation - August 24

ISC Beach Trip - August 26

Fall Classes Start - August 26
Future Students
Late Summer Class Start– July 10

Fall Application Deadline – August 1

Fall Orientation - August 24

Fall Classes Start - August 26